Interviews with Emmanuela Spedaliere, Director of Institutional Affairs and Marketing and with Rosanna Purchia, Superintendent, Teatro di San Carlo
by Cesare Cunaccia
Watch Now
The monumental complex of Capodimonte is divided into the main building, which houses one of the most important museums in the world, guided by Sylvain Bellenger and several pavilions within its vast park.
During the day, joggers and visitors can be seen enjoying long walks. The investment not only in the museum, but also in the rebirth of the Real Bosco, has made Neapolitans rediscover Capodimonte as a common heritage and place that must be visited, worthy of love and civic respect.
Capodimonte means a parade of consoles under fairy mirrors, miles of antique St. Leucio's silk wallpaper. A magnificent décor, featuring rooms decorated with stucco-work, ceiling frescoes, superb furnishings and chandeliers, Roman floor mosaics, a triumph of marble and golden bronze items. Isaia strenghtens its relationship with the Neapolitan region and the rootsof its culture, as a result of the further involvement of patronage, aimed at supporting the National Museum of Capodimonte and the green area of the Real Bosco that surrounds it.
Formal urban, yet with a fresh and summery look large and small check-patterns follow one another in lightweight wool, with light grey sugar paper blue and white threads.
The exceptional wealth of painting and décor of the Royal Palace of Capodimonte is the inspiration behind Isaia's 2020 Men's Spring/Summer Collection, which bears the name of the Capodimonte Collection. The colours, solids or pastels which, available in endless shades, characterise it, are inspired by the intricate tonal nuances and iconograhic themes of the paintings from the Neapolitan gallery.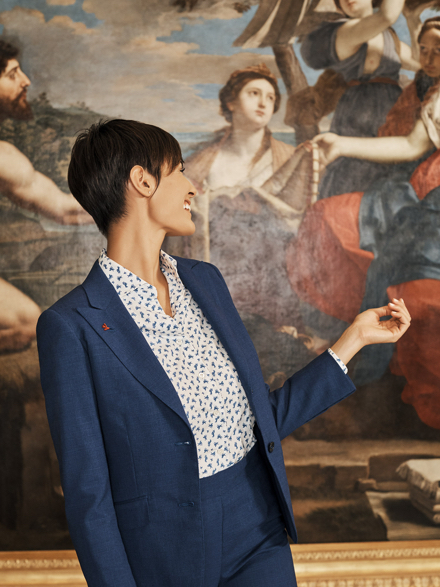 A statue of the nineteenth century, sculpted for the House Of Bourbon, now admired by visitors from all over the world, bear withness to the passage of time.
Playing around with brown, gray and burnt plaids, standing near a half-bust statue with no name.
Da Michele:
'A Pizza pe nnuje è religgione
M'avite 'a credere chest'è un posto del cuore.
I have always been there with my family and friends. 'A pizza, pe nnuje a Nnapule è rreliggione (pizza for us Neapolitans is our religion), something linked with our roots.
Salvatore the patriarch and then his heirs have taken care of it from the beginning.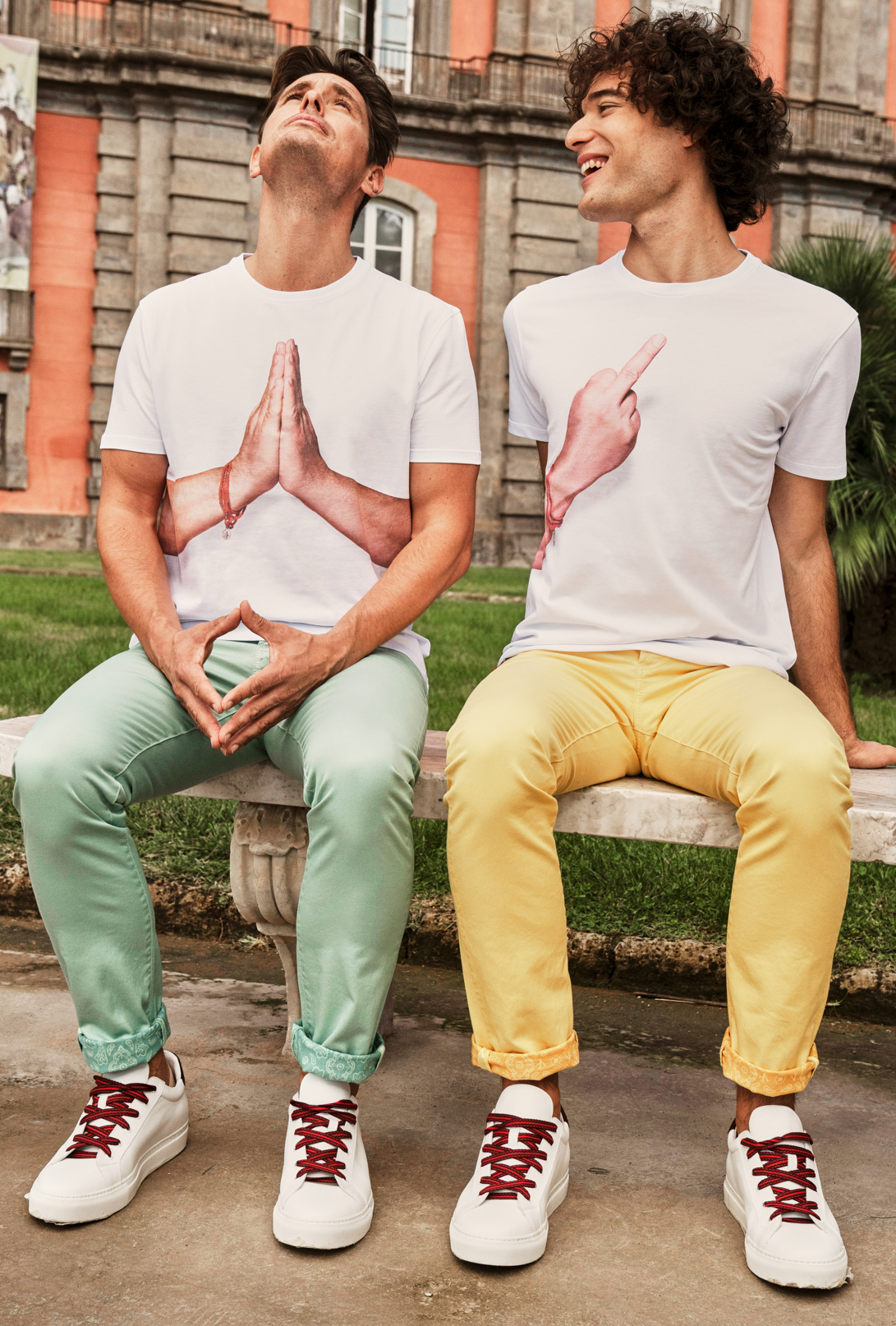 Neapolitan lesson:
Se parla cu' 'e mmane
It is recent news that a pictogram depicting the famous gesture che bbuò with your fingers together that means "what do you want", "what do you say", "what are you doing?", or again, "but where are you going?" and that there has always existed an explicit urgent request for clarification, has been inserted as the new icon in the 2020 Emoj repertoire for smartphones.
The gestures, the mimicry, the talking hands, are one of the most immediate Neapolitan and Italian cultural plots in general. Isaia plays with tem with a surreal and slightly provocative irony.
'a crianza fa o' signore.
Manners maketh Sir
We are, then we wear
Philip Sarofim is a Texan entrepreneur living in Los Angeles, as well as a philanthropist and car collector. He's a great supporter of the brand and a friend of Gianluca Isaia himself. With him he shares the idea that the true elegance is not a matter of wardrobe but an inner vision, it's like an interpretation.
"the coral logo represents a lot for me. I was lucky to find a tailor who, more than any other, also manages to dress my style and philosophy of life. I met my perfect match and each Isaia garment or shop makes me feel completely at home."
Harbinder Rattha is the founder and managing director of a group founded in 1992 in Chennai, capital of the state of Tamil Nadu, East India, operating in the clothing, hotel and healthcare, and real estate industries and co-working spaces. Harbinder Rattha is based in London. Isaia recently opened his London flagship store in partnership with the Indian group.
"If you go into an Isaia flagship store anywhere in the world to have a custom-made suit tailored, you'll fin a range of precious and exclusive fabrics of completely different weights, chromatic tones, designs on are all elements that make the difference every time. There's the pleasure of wearing something that's like a second skin, the result of techniques that are centuries-old and yet still new somehow."
Vide 'o mare quant'è bello
Look at this beautiful sea
The sandals encapsulates a whole philosophy, an amusing Neapolitan lifestye. Gianluca Isaia always says rules for elegance exist, but they're not enough. Firstly, elegance comes from within and we must have the necessary strength and irony to interpret it our own way. Is this why sandals are worn also with formal wear?