NAPOLI UNDERGROUND
Deep in Napoli, you can interpret, feel and appreciate over two thousand years of history, traditions and magic. In fact, the first evidence of underground excavations in the Neapolitan area dates back to around 5000 years ago, at the end of the prehistoric era. A powerful connection links the Neapolitans to this underground universe. In the 3rd century B.C., the Greeks opened up tu! quarries there in order to build their Neapolis, leaving a series of cells and funerary hypogea. In the Augustan age, the Romans equipped the city with an extensive water network fed by the springs of the Serino river, which flowed seventy kilometres away: not only this, they also developed an imposing road network in new tunnels which had been built for this purpose. The aqueduct, passing through the tunnels that branched o! in every direction of the original layout of the city and were wide enough to allow a person to walk in, went as far as Capo Miseno, bringing water to the Piscina mirabilis, the water reserve of the imperial fleet. On the walls, you can still see fragments of Roman hydraulic plaster for waterproofing. In the 16th century, this Spanish viceroyal capital underwent development, for it was expanding like wildfire, which meant that a new aqueduct needed to be built. In 1629, a rich Neapolitan patrician, Don Cesare Carmignano, finally took this project in his stride, but only at the beginning of the twentieth century did they stop digging in the bowels of Napoli for water supplies, whilst tunnels and cisterns for a total area of over 2.000.000 square meters ended up in disuse. Everything changed here with the ravages of World War II. Thousands of people would come down here every time an alarm sounded, and crowd into the ancient underground structures which were not only fitted with electrical lighting but also had toilets. The subsoil of Napoli is akin to a sponge, an impressive system, almost like a stone hive, or colander. It reflects the upper world in a play of shadows and chiaroscuros that appear to infinitely descend, scouting out various overlapping districts, starting with the one born from Hellenic origins.The detail of Melton cloth draws inspiration from a stone staircase that leads to these dark and deep labyrinths, alive with ancestral and mysterious energies. This is the springboard of the Isaia collection.
by Cesare Cunaccia
Flights of stairs that take you to the very definition of an underground city, mirroring the world above.
A parallel cosmos inhabited by rarefied lights, spun shadows and unique shades of dark, dense, deep colours. Here, you can see russets, a whole mosaic of earth and dark browns, along with a range of grey, lead, black and anthracite. A palette of subdued, nuanced and full-bodied tones, at times lit up by sudden bursts of light.
There really is everything down here, even the theatre where the controversial Emperor Nero made his debut as an actor. Then there are aqueducts from every age, evocative dream-like stretches of water, chapels, pagan shrines, remains of temples and ducts that seem to vanish into the tu!, tunnels, caves and necropolises, hypogeal gardens, crypts, burial grounds for monasteries/convents, and cemeteries revered by the Neapolitans such as the ever so famous Fontanelle cemetery, which houses the remains of thousands of victims of two terrible epidemics, the plague of 1656 and cholera in the 19th century. And let's not forget the air-raid shelters where people sought shelter from Allied bombing during WWII. Underground Napoli is the veiled mirror of the outside brightness, which sinks into darkness. An alternative Napoli, completely hidden to most, handed over to mystery and penumbra, and surrendered to the most poignant and unexpected beauty.
Dark depths, di!erent weights of dark grey, ranging from iron to lead, combined with vivid colours and touches of white, bringing to mind the path and variation of intensity that light makes when darkness is prevalent, breaking into the labyrinth of tunnels, hypogeal settings, caves and necropolises that weave throughout underground Napoli. Likewise, these fabrics are truly characteristic, made by mixing di!erent fibres: wool, cashmere, linen and silk.
Rough textures that create surfaces with a rougher, more varied and coarser appearance, imitating the primeval atmosphere of these places.
Memory and metamorphosis
In Napoli, a true jewel of a place where cultures and emotions overlap, there's a friendly, a!able relationship with the otherworldly, an aptitude that would only be natural in a place like this. The humour and persistent joie de vivre of Napoli succeed in bringing out the greatest and darkest taboo of humanity.
Accumulations of old scrap metal, bicycles, household appliances & cars in disuse,
and rusted metal pieces, are sedimented as sculptural groups in the grandiose caves, under the arches of ancient stone quarries, in the bomb shelters used in WW2 by the Neapolitans. Ghosts of obsolete objects and tools that have ended up down here, covered with dust, haunt the darkness of these ravines, where it is said that the "munacielli", ancestral spirits of local mythology, now roam: sometimes favourable, other times spiteful. Piuma concept is a type of outerwear that ranges from sporty to luxury, with the technical performance properties of a duvet. Sophisticated, warm, metropolitan style tailored quilted down jackets.
O'munaciello, a chi arricchisce, a chi appezzentisce (O'munaciello, it can make you reacher, or it can make you poorer).
"O' munaciello: it can make you reacer, or it can make you poorer", goes a Neapolitan proverb. He's fickle and unpredictable at best. All depends on how he reveals himself, which would completely be depending on his inclination. He would either be favourable, leaving coins hidden around, especially in unlikely or challenging places, and sometimes carrying out satirical and farcical acts, but mostly harmless ones, showing people which numbers to choose in a lottery. But be careful, you must never, ever reveal his presence to anyone, otherwise you will su"er the greatest misfortune. You can thank him by leaving him something to eat, which he can turn into gold if he so fancies. It is said that there's more than just a few people in Napoli who have enjoyed good fortune thanks to the magical intervention of the munaciello, or the numbers which he recommended playing in the lottery. He even inspired Eduardo De Filippo in the bitter-sweet plot of "These Ghosts" ("Questi fantasmi" in Italian). In 1870, he was the protagonist of the great comedy, "Nu munaciello dint'a casa 'e Pullecenella", by Antonio Petito, who was the legendary nineteenth-century Pulcinella and star performer of Neapolitan theatre. This work was recently revived by
Tato Russo - and, in 1891, it was transformed into the song "O' munaciello", written by Roberto Bracco. For Matilde Serao, the munaciello really did exist. It's a grim tale dating back to 1445, during the reign of Alfonso V of Aragon. The munaciello is thought to be the illegitimate son of an impossible and opposed love between Caterina Piazza, daughter of a rich Neapolitan cloth merchant and Stefano Mariconda, a poor shop boy, who, alas, was murdered, having dared set his sights too high. The child was born with various deformations in the Dominican convent where Caterinella had been locked up by her family. His mother decided to protect him from people's mockery and scorn by hiding her son's 'unsightliness' under a large hooded habit. And thus, is born o' munaciello. The story got lost in the mists of legends and gradually became richer and richer in details, with endless variations and tales. The heart of this story lies in the district of Porto, where centuries ago the first apparitions of Parthenope, a classic, distinctive spirit, were recorded. "If you want to hear stories, you will;" wrote Matilde Serao in Neapolitan Legends, "if you want authentic documents, you will have them. Anything can be done by the munaciello..."
Sneakers take on a new value, made in suede with refined colours
The recurring colour theme of the collection is teal, which catches the essence of the underground Parthenope's vocation: mysterious and di!cult to pinpoint.
There's everything down here. Caverns, immense caves and tunnels, tunnels and water conduits, quarries and cemeteries that gradually disappear into darkness.
Greek and Roman remains, baroque necropolises, underground chapels, monastic burial grounds, and air-raid shelters of the Second World War equipped with electric lighting and toilets for the thousands of people who sought escape from bombing. There is even the theatre where Nero made his debut as an actor in 64 AD.
Stones which have been hewn, excavated, and patiently worked by human hands since the mythical antiquity of Parthenope. Napoli loves losing itself in its adventurous and romantic counterpart, a double identity that has contributed so much to its millennial existence.
The Military Series is modelled on the jackets of Vietnam veterans, which would then become a symbol of freedom and universal peace in hippy culture.
Long, short, light, heavy: flying men's heavy jackets, flyer's jackets, field jackets and snorkel parka.
The all-natural fine quality of Black Sheep,
which reclaims the original sense and the most authentic essence of black sheep's wool, is expressed in natural shades of color. Presenting the single-breasted suit, reinterpreted in true Isaia style thanks to its slim, precise fit, reinventing a classic of the '30s wardrobe, with the overchecked in a lightly accentuated contrast of greige and rope tones, making for a truly schematic, graphic impact. Patterns that echo the predominant tones of the caverns: caverns which have been excavated in the tu! for centuries and centuries, increasing in frequency until the dawn of the 20th century. Tu!-like tones, warm and cold hues that blend harmoniously, stone that becomes gold when a random beam of light hits it and bringing it to life with mysterious and ephemeral chords.
Who said that grey is a straightforward, mu!ed and exclusively formal tone of colour? The grey palette that enriches the Isaia collection is based on a spectrum of numerous variations. Interwoven with dark and bright shades, it varies in colour, ranging from lead to the flickering metallic grading of steel, becoming thinner and thicker, with shades that are both unexpected and vibrant. Passe-partout grey, tonal arpeggio, establishing endless dialogues. A grey which is mixable, contemporary, metropolitan and versatile. The porous and greyish stone of the cavea respires the echo of a secret water basin steeped in a thousand reflections. A large emerald set in a jagged yet dreamy stone chest.
The mysterious charm of underground Napoli is undoubtedly enriched by the presence of water. Indeed, this is water which flows abundantly, a magic liqueur that brings energy and dynamism to the stone which has been excavated, polished, chiselled, riddled with large and small spaces, and engraved with small channels, where the "pozzari", maintainers of the local water network, could just about squeeze through in the dark.
Stones which resemble sculptures, evoking all sorts of shapes and volumes.
Countless sculptural works of yesterday and today come to mind, depicting cyclopean and minimalist visions of artists and creatives: sculptures which descend into the belly of the ancient Parthenope. A silent dialogue between gigantic boulders and eloquent signs of man's work spanning centuries, carried out with e!ort and dedication, without ever being able to see the sky. Napoli largely came about from taking an abundance of stones and rocks from the earth, which were then transformed into grandiose buildings, starting with the epoch where Greeks, the founders of Neapolis, or the New City, were erecting walls and temples. All the way through to the 20th century.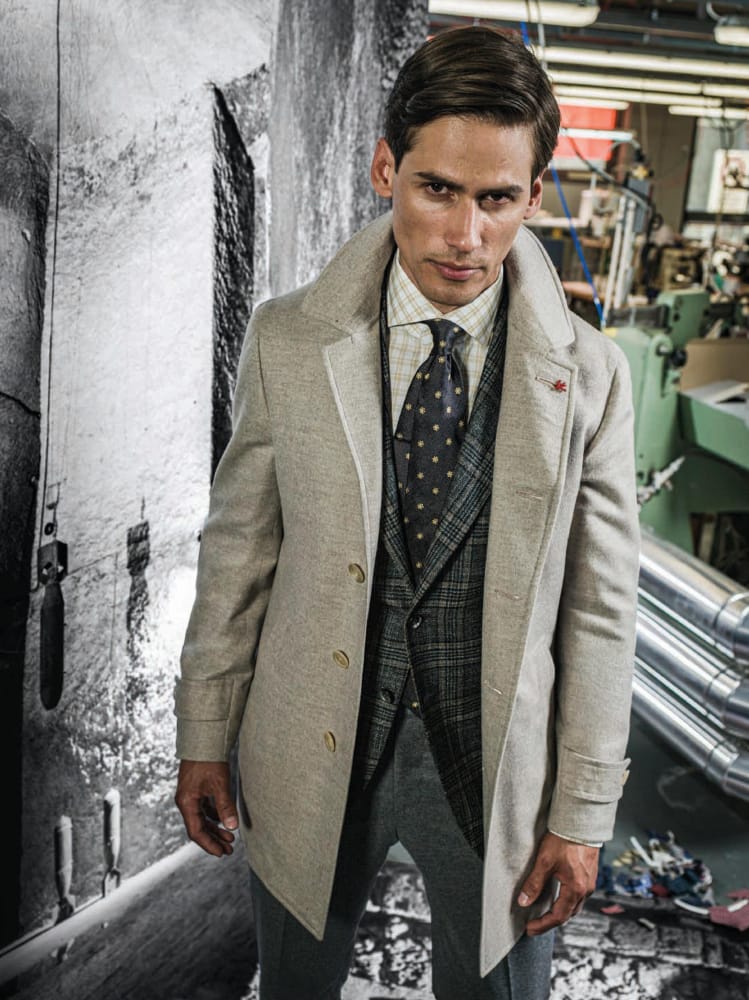 'A morte nun tene creanza (death has no education).
Neapolitans enjoy tempting fate yet drive away the inevitability of death every day with irony. The collection reflects this 'vocation' for humour and smiling, with a healthy touch of irony, something that characterizes Isaia's philosophy.
The woven, embossed ties have the same earthy and dark colours as the outwear, with the addition of a deep, rich purple. The cashmere knitwear is distinguished by a variety of subtle hues, but also by warm and bright colours.
The acceptance and devoted care of strangers' skulls, called "capuzzelle", is a ritual cult that is part of the ancestral parable of Napoli. The unknown, disinherited deceased, or the "pezzentelle souls", at the Fontanelle, would be transformed into tutelary and propitiatory deities, a familiar and daily presence, in a tradition that is both sacred and secular. Candomblé is Napoli. Every day, they are asked for assistance in some form: numbers to play in the lottery, help in the big and small events of life, love, work, business or more generally, dealing with problems of various kinds. In return, the skulls are polished and cleaned with love, placed in small shrines, and decorated with bows and rosaries.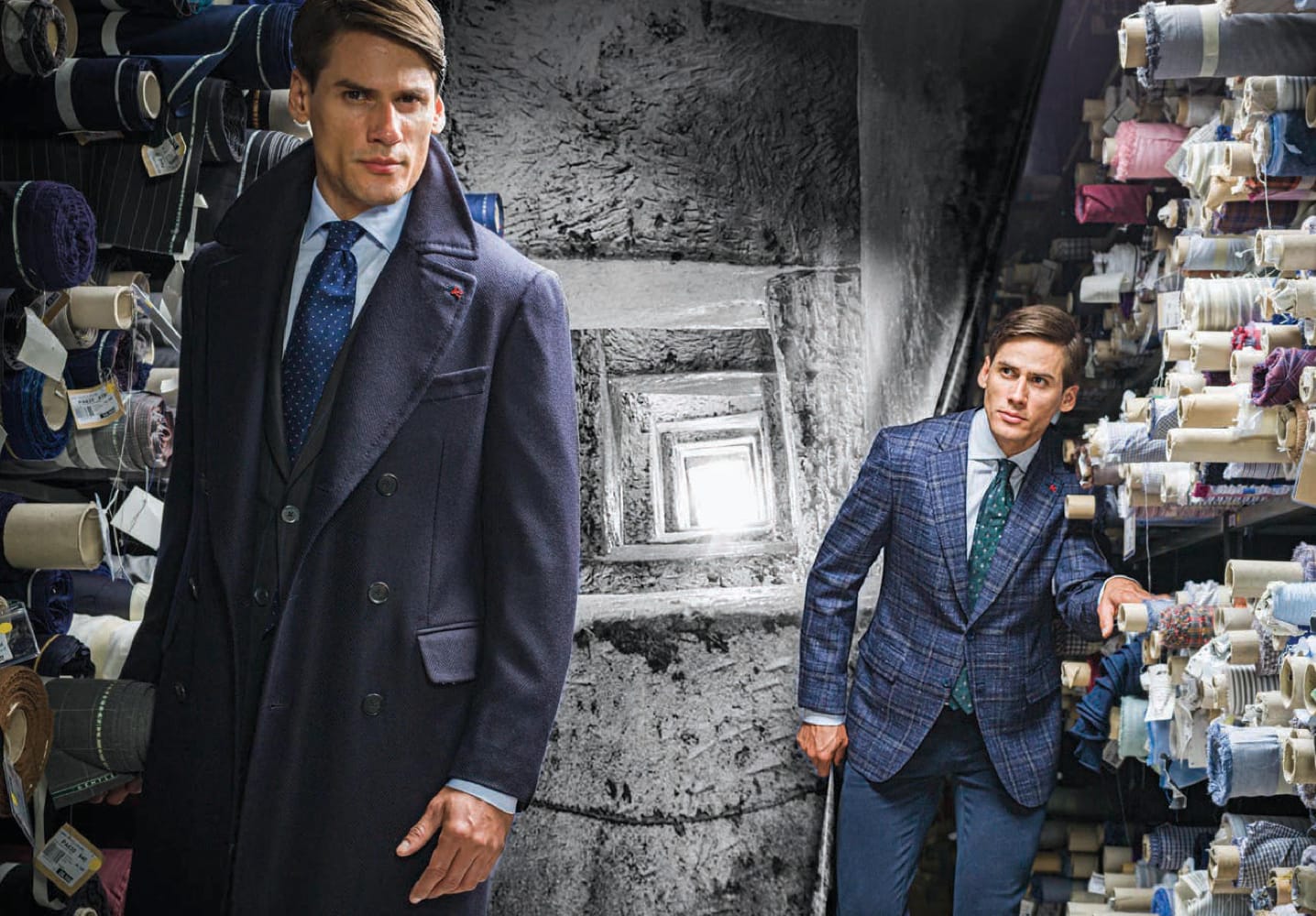 An inheritance of precious fabrics, accumulated over the years, which is constantly being expanded in a variety of ways, including the direct acquisition of outstanding products manufactured in the Biella area. The vocabulary which dictates Isaia's style and quality.
"Ask an old man, a maiden, a mother, a man, or a child if this munaciello really exists and runs around the house, and they'll make a face of disbelief at you, just as they would with anyone who insults their faith". Matilde Serao, Neapolitan Legends
Sustainability is an increasingly central element in Isaia's production and philosophy. An approach that involves the entire supply chain, from raw materials, textiles and yarns, through to production of the product and various stages such as finishing, sewing and packaging. The dyeing of wools and cottons follows ancient and natural methods, often using vegetable pigments or mineral powders, avoiding the use of chemical fixatives or invasive and polluting industrial processes. For Isaia, the environment is a priority. Take a trip to our labs, and you'll be assured.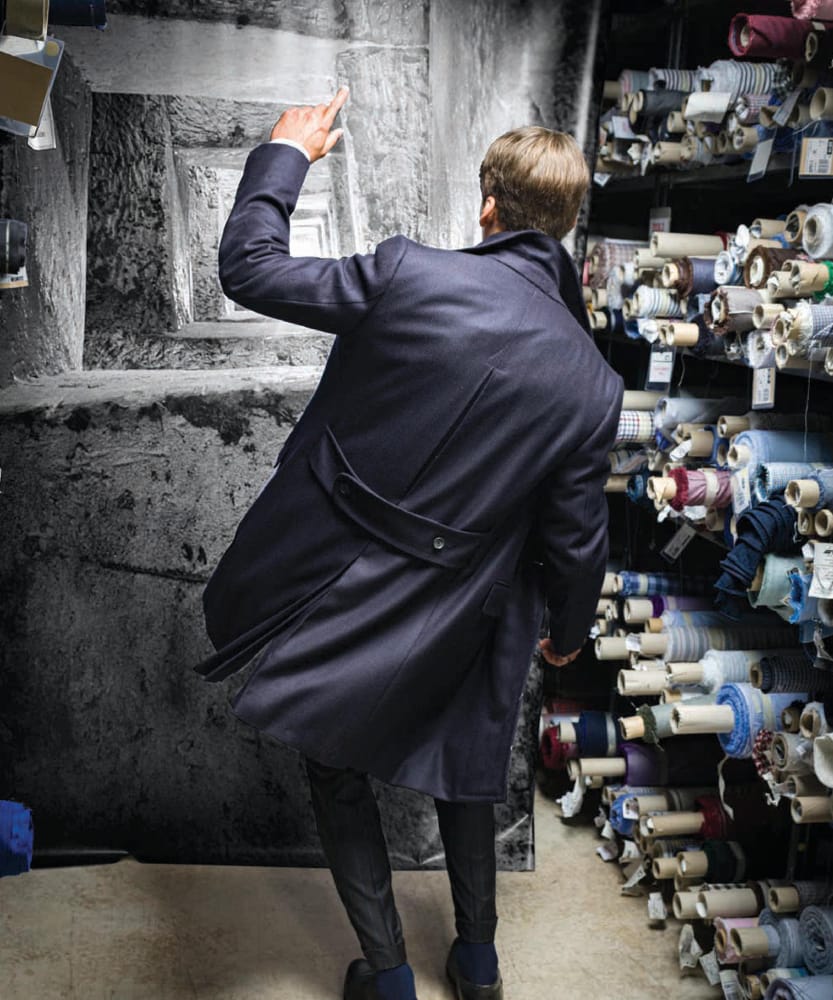 A distinct place full of mysteries, Napoli is a city arising from its underground passages. An unicum and a spell.
Double-sided herringbone coats and an anthracite-coloured jacket reminiscent of the stonemasons' work on stone, engraved with patience and immense e!ort. The perforated surfaces, sawn into large blocks. Emptiness and fullness, echoes and fleeting appearances that suddenly emerge in the midst of darkness. Nowhere has a "double value" quite like Napoli with its underground city that coexists with the city itself, emerging from these sedimentary depths of history and mythology, spread out between sun and sea.
Figurative conversation between the girl and deat - about 1922. ph. Franz Fielder
The Fontanelle Cemetery, founded in the 17th century, is the epicentre of this other world. Its name comes from the water sources that flowed there in ancient times. It houses the remains of 40,000 people, victims of both the great plague of 1656, a landmark event that shook the life of the vice-royal city, as well as the cholera epidemic of 1836. Piles of skulls and bones placed in a colossal and theatrical area, made possible by digging in the tufa rock. A setting that sheds any macabre connotations, undoes chronologies, and suspends the passage of time.
Snow white.
An unexpected and daring suit. Like a ray of pure light that sweeps into the labyrinthine darkness interwoven into the rocky womb of Napoli. Light emerges victorious over this blanket of darkness, enhancing the shadowy, enclosed tonal aspect of the fabrics.
The initiatory journey into the Neapolitan subsoil ends right where it began.
The meander of the access stairway finally reveals all its mirror-like duplicity and remains itself, an organism closed in itself, seen from below as from above.
A mysterious and ambiguous geometric shape that contains a secret passage and can reveal it only to those who can read the key. The suits belong to the Aquadandy Attitude collection, a family of iconic fabrics in the ISAIA world. They are flannels with "Aqua" water repellent treatment, marked by Wales designs in bright and particularly refined colors.
The tie is 100% cashmere. A touch of vibrant chromatism for the Cashdonegal Sciammeria turtleneck sweater, the ideal complement to the new sporty outerwear that does not renounce to a décontractée elegance.